Transportation & Vehicle tracking Solution
---
Overview
Averos' advanced sensor-based vehicular tracking, monitoring and management system and has the versatility of connecting sensors, providing processing and communication, that makes it into new generation of IoT category of sensor-router specific for the Traffic Management System. When deployed strategically, the customer is able to have a continuous data feed and data analytics solution to deal with complex traffic management issues in a very cost effective manner. Averos also provides a suite of AVL and fleet management solutions.
---
Features/Services
Journey Time Measurement System


Identifies vehicles at two or more points in a road network to calculate the journey time, find congested routes, make road network improvements and, understand road network operations.

Road Guidance System


Guides a user between the source and the system destination to find the shortest route using applicable algorithms.

Advanced traveler information systems


Provides real-time traffic, navigation, weather information, etc.

Urban Traffic Management & Control Systems


Optimizes the current traffic flow by making use of algorithms to receives current and predicted road traffic conditions and relay information to coordinate and control traffic signal timings in a specific region or a city.

Incident Detection & Location System


Locates and verifies the occurrence of any roadside incident or accident to remove abnormalities in the traffic flow.

Predictive Traffic Modeling System


Combines historical data, current data, and weather forecasts to predict the situation of traffic in a region for preventive measures.

Advanced transportation management systems


Helps optimize transportation network operations as well as aid in alleviating pollution and traffic congestion in order to enhance quality of life.

Cooperative Vehicle infrastructure Systems


Enables vehicles and transport infrastructure to exchange information in a dynamic fashion
Children Safety Monitoring Solution
---
Overview
Children's safety is a major concern in today's modern cities. We provide non-intrusive set of solutions to keep track of children in real-time in different large surface areas, such as schools, malls, amusement parks, …
---
Features/Services
Securely attached bracelet wearable tag
Tag includes alerting LED lighting and buzzer when called from parent or guardian
Tag with push-button to alert parent or guardian
2-way alert notification system
Get alerted with child wanders off
For large indoor locations, such as malls, amusement parks, schools, …
Real-time tracking and location
Analyze problem areas for preventing future children wandering-off
Hospital RTLS solution
---
Overview
Improving Hospitals & Clinics efficiency with innovative and advanced RTLS. Use Averos' versatile platform to tracking assets and thereby optimizing hospital's efficiency and saving costs.
Live Track patients
Live track hospital staff
Track & locate valuable medical equipment and assets
Use the power of advanced analytics to provide insight into your operations
---
Features/Services
Patients incident/fall management
Infant protection
Patient security
Elopement/wandering detection & location
Staff security & access control system
Facility security
Track & locate assets in real time
Integrate live location tracking data into asset management system
Temperature & humidity monitoring for sensitive & valuable asset
Theft & tampering detection
Data analytics on asset management and efficiency usage reports
Define and integrate an OR, ED & Clinic patient work flows
Patient check-in/check-out management
Define and integrate staff work flows
Staff attendance & check-in/check-out management
Room utilization management
Monitor efficiency with advanced data analytics
Employee Attendance System
---
Overview
Averos integrates its live tracking RTLS based and other technological solution into its own attendance system. It provides an advanced set of features to meet the needs of your growing company. Furthermore, Averos provides an HR management module to meet all of your the basic needs and furthermore, using our advanced set of API you can integrate Averos' attendance system into your own HR and ERP system. We provide support to all leading systems.
---
Features/Services
Multiple technology support tracking

Semi-automatic
location-based
full RTLS based tracking system

Real-time live tracking with work area
Workflow integration
Work area defined tracking
Security & access control system
Real-time Alerts & notification
Check-in/Check-out system
Company level, team level and individual level HR rule management system
multiple data views and analytics
Multiple widget based Dashboard
Integration into leading HR and ERP solutions: Oracle, SAP, Sage, … through a complete set of advanced APIs.
Applicant Tracking System (ATS)
Hiring Process
Holidays & Leaves Management
Employee Database & records
Performance Management
HR reporting
Workflow tracking
Team Management
Warehouse & Logistics Solution
---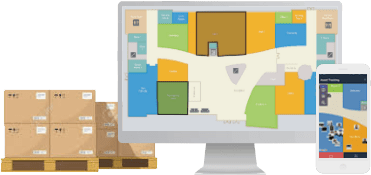 Overview
Averos' Logistic solution features its own CoreBlu BLE tag and Loris BLE scanners, specifically designed for the logistics market's demanding need. A whole range of advanced cloud-based application software modules are available for building-up solutions that fit to a large variety of asset and logistics tracking requirements.
---
Features/Services
Real Time Inventory tracking


Location tracking and identification of inventory in warehouse or in transit areas.

Real-time transportation tracking System


Tracking of logistics transport vehicles; transport tracking of goods (especially high capital goods).

Inventory life-time tracking


Tracking of shelf life of short-lived products, tracking of quality and value depreciation.

Logistics Analytics System


Helps optimize transportation network operations as well as aid in alleviating pollution and traffic congestion in order to enhance quality of life.

Security Alert System


Damage detection, especially of fragile goods, theft detection and tracking; integrity loss of dangerous and hazardous goods.